Plastic Injection Molding
The plastic injection molding is the most common method of part manufacturing. It's a manufacturing process for producing parts from both thermoplastic and thermosetting plastic materials. Material is fed into a heated barrel, mixed, and forced into a mold cavity where it cools and hardens to the configuration of the cavity. After a product is designed, usually by an industrial designer or engineer, molds are made by a moldmaker from metal, usually either steel or aluminum, and precision-machined to form the features of the desired part. It is widely used for manufacturing a variety of parts. We are able to provide a one-package service, including design, mold making, plastic injection molding, painting, assembly, packaging, and delivery.
Plastic Injection Molding Products Samples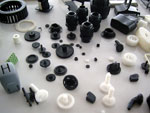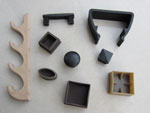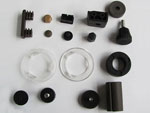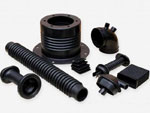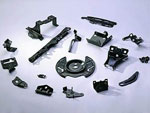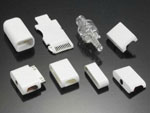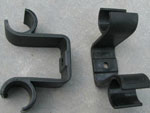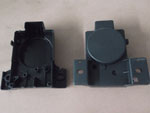 Process:
1. In-Mold Decoration (IMD)
2. In-Mold-Label (IML)
3. Insert Molding (Plastic Overmolding)
4. Dual-Color Molding
5. PEI High Smooth & Glossy Molding
6. Sterilized Workshop with Constant Temperature for Medical and Cosmetic Parts.
We can make die casted hinges, locks, automobile parts, motorcycle parts, gear box, lighting fixture parts, instrument enclosures, motor frames, foot pedals, and high precision machine parts etc.
Secondary Process After Molding:
1. Printing: Hot Stamping/Decal, Silk-Screen Printing, Tempo Printing, Laser Engraving, Label Application
2. Assembly: Manual, Semi-Automated, Fully Automated, Clean Room
3. Welding: Ultrasonic Welding, Vibration Welding, Laser Welding
4. Testing: Dimensional Testing (CMM), Leak Testing, Dielectric & Electric Testing, Optical Testing
Application:
1. Automotive
2. Medical
3. Household Electrical Appliance
4. Fast Moving Consumer Goods
The plastic injection molding is used to create many things such as packaging, plastic caps, dashboards, pocket combs, plastic chairs and tables, some musical instruments, mechanical parts and most other plastic products available today. Some advantages of injection molding are high production rates, repeatable high tolerances, the ability to use a wide range of materials, low labor cost, minimal scrap losses, and little need to finish parts after molding.
We provide 4 types of Molding Service, depends on your order quantity:
1. Fast prototyping without mold cost, suitable for product design testing and quantity less than 50 pcs.
2. Small batch testing production run by low lifetime mold, suitable for low volume production less than 5,000 pcs.
3. Standard mold with over 200,000 shots lifetime for molding in our own facility.
4. Longer lifetime mold for export.
Expert Plastic Injection Molding Services:
Below, we have listed some of the products we can craft for you:
1. Caps, sprouts and adapters
2. Soft drink fountain components
3. Tail light, turn signal lenses and housings, fuse holders, speaker brackets and assemblies, RV components
4. Camera cases, glasses, flower pots, clock parts, telephone internal parts, timers and scale parts
5. Infant audio testing, unit dose medicine packaging
6. Fuse pullers, circuit and voltage testers, vending machine parts, point of purchase display components, computer cases and components
Common materials used in injection molding:
PC, PS, PE, PVC, PE, PP, ABS, Rubber, Acetal
Common additives added into material:
UV inhibitors and Flame Retardants.
Whether you are a large OEM, custom injection molder or product design firm, Maxtech can help you realize substantial cost and time savings. We offer several different injection molding services based on your project needs and requirements. Maxtech is a professional plastic injection mold manufacturer in China. We offer a reliable and low cost plastic injection molding solution for materials of PC, PS, PE, PVC, PE, PP, ABS, Rubber, Acetal
We also provide the following services:
1. Metalworking Service, CNC Machining and EDM Machining Service
2. Heat Treatment:
Hardening, Annealing, Normalizing, Stress Relieving, Softening, and Graphitization
3. Surface Treatment:
Metal Polishing (Metal Mirror Polished, Brushed Metal Finishing), Shot Blasting, Sandblasting, Spray Painting, Powder Coating, Thermal Spraying, Anodizing, Chrome Plating, Nickel Electroplating / Electroless Nickel Plating, Hot-Dip Galvanizing, Copper Plating, Phosphorizing, Electrophoresis and Passivation
4. Assembly
5. Packing
6. Testing Report, QC Report